Welcome to Sackville Patriot Days
Planning for Patriot Days 2023 is well under way.
The parade form is available on the parade page. We are developing the list of events and the schedule, and will update those pages by the end of May.
We can use your help! Please visit the contact page if you can spare a few hours through Patriot Days or on Canada Day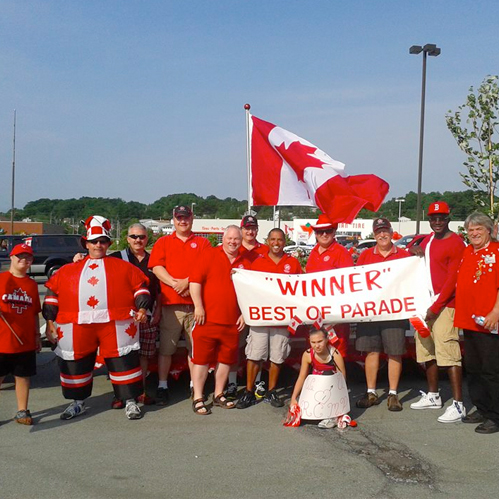 Sackville Patriot Days is a community, family-oriented celebration organized around Canada Day. It covers three or more days, depending on the day of the week on which Canada Day falls. Events may vary from year to year depending on which community groups become involved. The schedule may include sports tournaments, dances, contests and children's events.
At the core of the Patriot Days celebration each year is a Canada Day Parade down Sackville Drive, a free concert at Kinsmen Park and a fireworks display over First Lake.
The Sackville Community Development Association (SCDA) spearheads Patriot Days relying on funding from Celebrate Canada, HRM Festivals and Events, and donations from local businesses and individuals.
The Patriot Days Committee, a volunteer group who actually produce the festival, is comprised of a consortium of all levels of elected representation, service organizations, club members, and many dedicated volunteers banded together to organize and produce this community festival.
Different organizations throughout the community are designated to work on specific events and projects and the SCDA provides coordination, funding, fundraising, publicity, communication, support, labour, and motivation. Work usually begins in early January to prepare the year's festival. The volunteers work very hard to produce a festival to be proud of. Annual total attendance at the events typically reaches over 50,000 people. New volunteers are always welcome as are fresh ideas.